ABOUT LEVANTES HOUSES
«Levantes Houses» plot consists of 3 individual stone-made houses. They are located on the right side of Vathi bay, as we get into the port, at the neighborhood also known as Kavos. They offer relaxing and quality holidays to all guests since 2009.
Their name holds a double meaning. Levantes is the name of the eastern wind, also known in greek as Apiliotis. Levantes are also these little lilac-coloured flowers flickering in the breeze, with the smooth beauty and the unforgettable scent.
There are 3 independent buildings. The main one, which is called «At the crack of time» is the owners' house and it is built at the highest spot of the plot. The other two houses have been named after the Nereids (sea nymphs): «Galini» (40 m2) and «Kimothoi» (52 m2). Both of them are built on escalating levels and have 4 beds each. All three houses offer a breathtaking view to Vathi bay as well as to the little isle of Lazareto, which is located in the middle of the sea entrance.
The houses have large verandas of 20 m2 and 24 m2, as well as tables and built-in benches surrounded by blooming flowers and trees.
The common areas are: the spacious central kiosk with the huge built-in table and the traditional wood-fired oven and barbeque.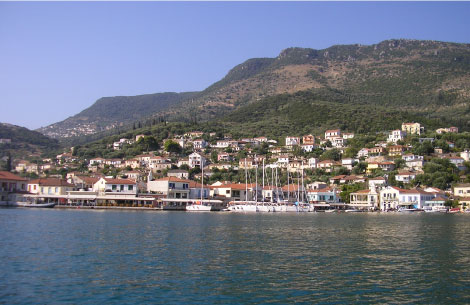 The photos of both Vathi and Ithaca as well as those of the houses have been taken by Mr Stavros Dellaportas.
Services
We offer mooring space for our guests' boats in front of the property.
Large kiosk with built-in table, BBQ and wood-fired oven.
The kitchen is fully equipped with a fridge, cooker, pots and pans, cutlery so that you can make breakfast, lunch or dinner.
You are offered coffee and tea throughout your stay.
We are welcoming you with fresh fruits in the fridge upon your check-in.
The Ancient Island
Ithaca, born within the Ionian satin full of its crystal-looking allurements: Dexa, renowned for its huge dense olivetree shades, where Ulysses is said to have been disembarked by the Pheaks, Mnimata, with the cypress trees, Schinos, where the so many pine trees are reflected into the crystal clear blue of the sea, Sarakiniko and Filiatro, both snowwhite with shadow sea-springs, Afales and Platynammos, sapphire coloured, Kourvoulia, Ai Giannis, Ancient Town and Kioni beaches, which are not only a natural masterpiece but also a human piece of art with the houses-stairs looking impressive as if they climbed one on top of the other.